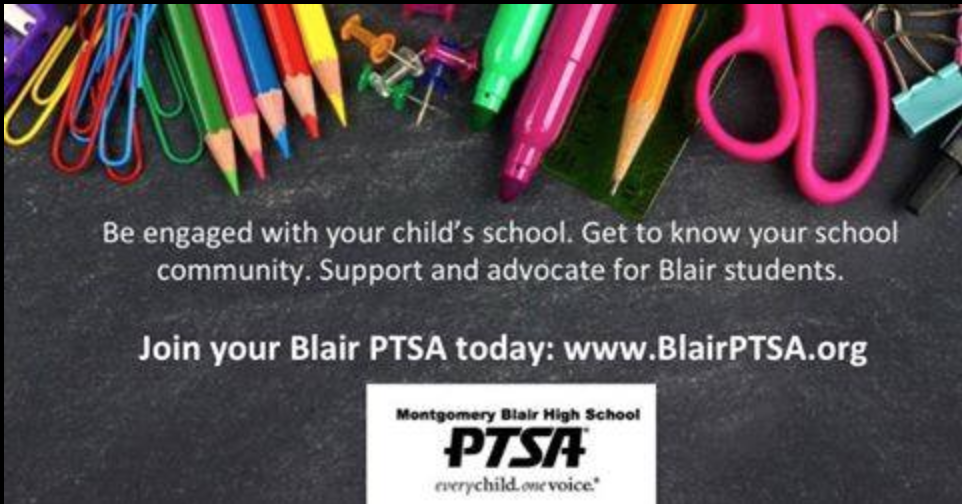 Below is a list of our current leadership/volunteers (effective 10/21/2020).
We are still looking for volunteers! For information about the VACANT/OPEN 2020-2021 Blair HS PTSA volunteer leadership positions, visit our 'volunteer opportunities' webpage.
Note: If you are attempting to contact a Blair teacher or staff person, please go to the MCPS Blair High School Staff Directory.
---
MONTGOMERY BLAIR HS PTSA BOARD OF DIRECTORS
| | | |
| --- | --- | --- |
| BOARD OFFICERS | | |
| President | Mariama Orange | Contact PTSA Board |
| Vice President - Advocacy | Frances Frost | Contact PTSA Board |
| Vice President - Academic Affairs | Vacant | |
| Vice President - Administration | Ayo Atterberry | Contact PTSA Board |
| Treasurer | Rex Robison | Contact PTSA Board |
| Secretary | Ingrid Carter | Contact PTSA Board |
| BOARD MEMBERS | | |
| MCCPTA Delegate (A) | Vacant | |
| MCCPTA Delegate (B) | Vacant | |
| Blair Principal (or designee) | Renay Johnson | Contact Blair Staff |
| Parliamentarian | Vacant | |
| BOARD MEMBERS (STANDING COMMITTEE CHAIRS) | | |
| After Prom | Vacant | |
| MiniGrants | Toni Bair | Contact PTSA Board |
| Counseling Advisory | Vacant | |
| Membership | Vacant | |
| Hispanic Outreach (Los Padres) | Maria Portela | Contact PTSA Board |
| NAACP Parent Council Representative | Rosemary McCloskey | Contact PTSA Board |
| SGA Student Representative | Yvan Djoumessi | |
| Beautiful Blair (inactive) | --- | |
| Nominating Committee | Vacant | |
MONTGOMERY BLAIR HS PTSA AD-HOC COMMITTEES (Non-Voting)
African American Student Achievement Program
Vacant
Blair Grant Writer
Vacant
Database Managers

Mariama Orange
Katherine Ralston
Contact PTSA Board
Fundraising
Vacant
Fundraising: Direct Appeal
Vacant
Fundraising: Citrus Sales
Steve Plank
Contact PTSA Board
Fundraising: Painless Fundraising
Vacant
Fundraising: Sniders
Vacant
International Night
Vacant
List-­Serv Manager
Andrew Partan
Contact PTSA Board
Newsletter Editor (Inactive)
---
Social Media Manager
Frances Frost
Contact PTSA Board
Special Needs
Vacant
Staff Appreciation
Diane Kelleher
Alejandra Mercado
Contact PTSA Board
Volunteer Coordinator
Vacant
Website Manager
Angelia Levy
Contact PTSA Board
MONTGOMERY BLAIR HIGH SCHOOL ORGANIZATION REPRESENTATIVES (Non-Voting)
MONTGOMERY COUNTY COUNCIL OF PTAs (MCCPTA) – Downcounty Consortium (DCC) / Blair Leadership