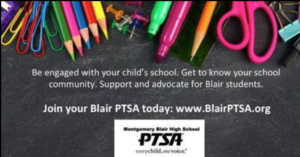 UPDATE: The Blair HS PTSA's 2020-2021 elected/official officers (effective 10/21/2020) and leadership list is available here.
---
Below is a list of our ACTING/INTERIM leadership volunteers.
October 10, 2020 ALERT: The Montgomery Blair High School PTSA will hold its 2020-2021 'Board Officers & MCCPTA Delegates Election' IN-PERSON on Tuesday, October 20, 2020. Click HERE for details
NOTE: Due to the COVID-19/Coronarviurs Pandemic and subsequent issuance of Maryland health/safety mandates (e.g., school and business closures, limited size of social gatherings, etc.), the Montgomery Blair High School PTSA has not held elections for its 2020-2021 Board Officer and MCCPTA Delegate positions. Currently, Maryland PTA has not authorized its constituent associations/units (which includes the MBHS PTSA, also known as the Blair HS PTSA) to hold online/electronic elections in place of the standard in-person/secret ballot elections, the latter of which are dictated by Maryland PTA bylaws. (See 'Elections' section, Page 6, 'Maryland PTA Advisory – PTA Operations during COVID-19 Emergency' 4/17/2020 and 'In the News: Status of the Maryland PTA). Therefore and until further notice, the MBHS PTSA's 2019-2020 Board Officers (President, Vice Presidents, Treasurer, Secretary) will continue in an acting/interim capacity until/if the Blair HS PTSA 2020-2021 board officer and delegate elections can/are officially held (see announcement/list of 2020-2021 Blair PTSA board officer nominees). If the Blair High School PTSA's officer and delegate elections are held in 2020-2021, the elected 2020-2021 board officers and MCCPTA Delegate(s) will hold their elected positions until the end of the 2020-2021 school year, with an opportunity to run for another one-year term, if eligible. If/when the Blair HS PTSA are able to schedule its 2020-2021 Officer and Delegate Elections, we will notify our membership as soon as possible and follow election protocols, as stipulated by our bylaws (See Section VI, Page 7) and Maryland Government's 'COVID-19 Pandemic' safety guidelines. If you have any questions and/or comments, please do not hesitate to contact the Maryland PTA and/or the Blair HS PTSA's Nominating Committee (NominatingCmteBlairHSPTSA@gmail.com).
Note: If you are attempting to contact a Blair teacher or staff person, please go to the MCPS Blair High School Staff Directory.
---
MONTGOMERY BLAIR HS PTSA BOARD OF DIRECTORS
| | | |
| --- | --- | --- |
| BOARD OFFICERS (Acting/Interim) | | |
| President | Mariama Orange | Contact PTSA Board |
| Vice President - Advocacy | Frances Frost | Contact PTSA Board |
| Vice President - Academic Affairs | Ayo Atterberry | Contact PTSA Board |
| Vice President - Administration | Vacant | |
| Treasurer | Katherine Ralston | Contact PTSA Board |
| Secretary | Ingrid Carter | Contact PTSA Board |
| BOARD MEMBERS | | |
| MCCPTA Delegate (A) | Vacant | |
| MCCPTA Delegate (B) | Vacant | |
| Blair Principal (or designee) | Renay Johnson | Contact Blair Staff |
| Parliamentarian | Vacant | |
| BOARD MEMBERS (STANDING COMMITTEE CHAIRS) | | |
| After Prom | Vacant | |
| MiniGrants | Vacant | |
| Counseling Advisory | Vacant | |
| Membership | Vacant | |
| Hispanic Outreach (Los Padres) | Maria Portela | Contact PTSA Board |
| NAACP Parent Council Representative | Rosemary McCloskey | Contact PTSA Board |
| SGA Student Representative | Yvan Djoumessi | |
| Beautiful Blair (inactive) | --- | |
MONTGOMERY BLAIR HS PTSA AD-HOC COMMITTEES (Non-Voting)
African American Student Achievement Program
Vacant
Blair Grant Writer
Vacant
Database Managers

Katherine Ralston
Mariama Orange
Fundraising
Vacant
Fundraising: Direct Appeal
Vacant
Fundraising: Citrus Sales
Steve Plank
Contact PTSA Board
Fundraising: Painless Fundraising
Vacant
Fundraising: Sniders
Vacant
International Night
Vacant
List-­Serv Manager
Andrew Partan
Contact PTSA Board
Newsletter Editor (Inactive)
---
Nominating Committee
Angelia Levy (Chair)
Lisa Finkelstein
Ben Bond-Lamberty
Social Media Manager
Frances Frost
Contact PTSA Board
Special Needs
Vacant
Staff Appreciation
Diane Kelleher
Contact PTSA Board
Volunteer Coordinator
Vacant
Website Manager
Angelia Levy
Contact PTSA Board
MONTGOMERY BLAIR HIGH SCHOOL ORGANIZATION REPRESENTATIVES (Non-Voting)
MONTGOMERY COUNTY COUNCIL OF PTAs (MCCPTA) – Downcounty Consortium (DCC) / Blair Leadership