LATEST NEWS/UPDATES POSTED: May 20, 2021
---
NOTE: All graduation ceremony guests must have a ticket and be on the guest list in order to attend the Montgomery Blair High Graduation Ceremony.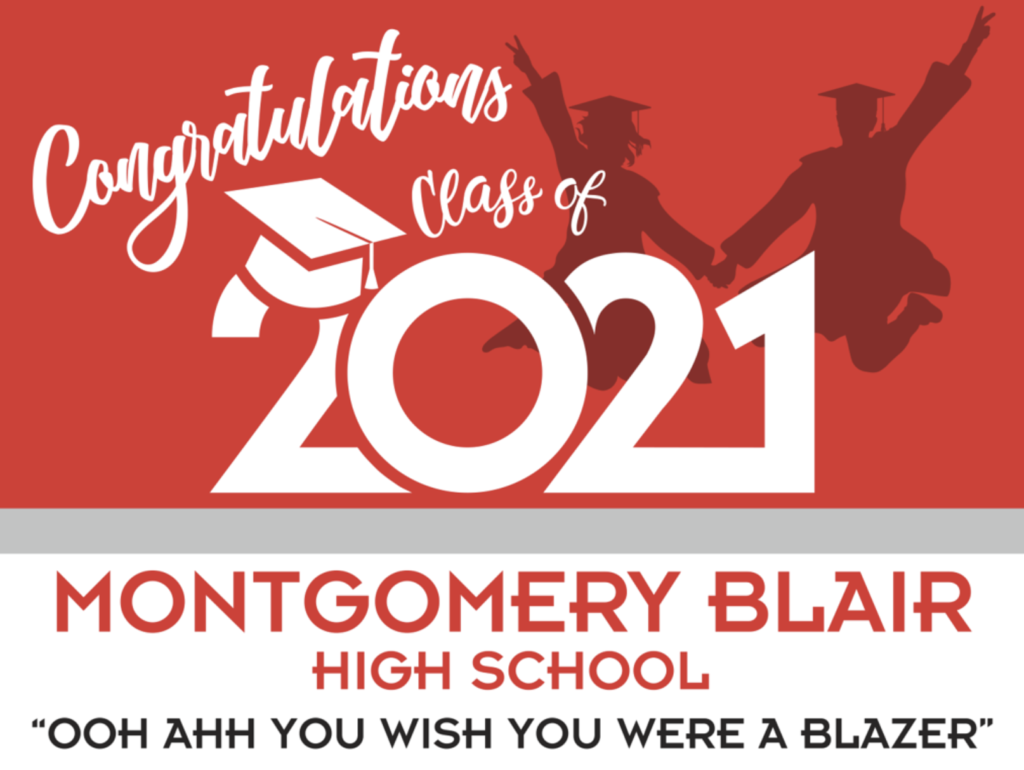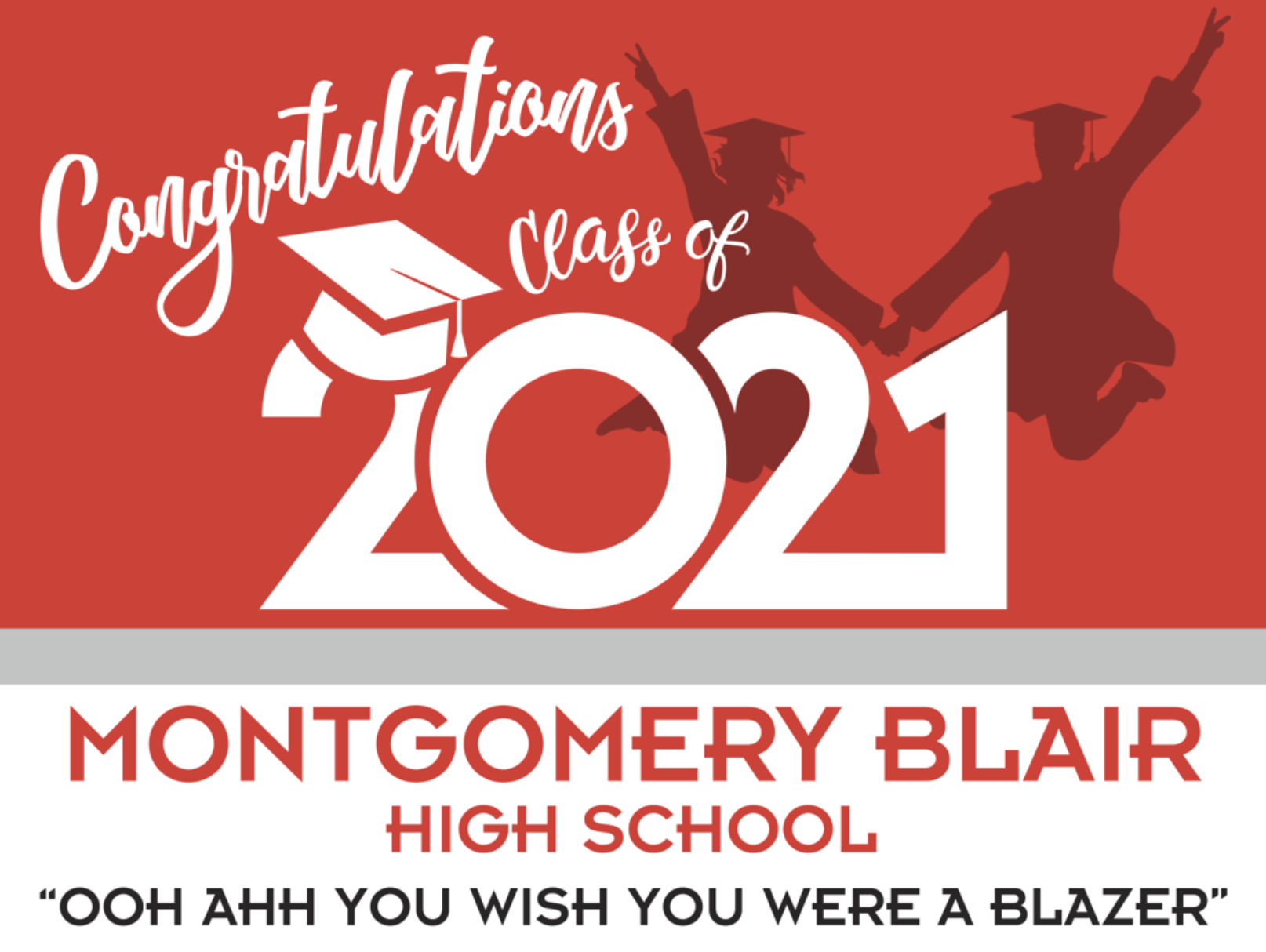 Text and image below from the Montgomery Blair High School's 'Principal's Newsletter' (May 2021).
Dear Senior Families & Montgomery Blair High School Families,
I hope that you are well and enjoying time outside with family and friends. Thank you to our PTSA, parents, and students who sent appreciation notes and treats to our staff last week in honor of Teacher / Staff Appreciation Week. We are thankful to have a very supportive community. Click this link to see our Staff showing their school spirit last week, https://padlet.com/lavinacarrillo/qjejveo07n1a9mzj.
Our 2021 Graduation Ceremony will be held on Wednesday, June 2, at 9:00 a.m. (rain dates June 2, 6:00 p.m., and June 3, 9:00 a.m.), at our school stadium. There will no classes for students in grades 9, 10, and 11, so that staff and families can enjoy graduation.
The Honorable Kate Stewart, Mayor of Takoma Park, is our graduation speaker. Mayor Stewart is a Blair parent of a current senior, Bridget and Blair Alum Jamie '17. Mayor Stewart has met with school staff and our senior class officers to gain the spirit of the class. We are grateful for her participation in our ceremony and leadership in the community.
We are committed to doing everything we can to provide a graduation experience that truly celebrates our students' accomplishments and represents our Blazer Pride. Here is the presentation from our senior parent meeting, https://docs.google.com/presentation/d/1rczV6xy1Z9Z2tk8iik_7mFu_oDpcdtRwx694FtLdxQM/edit?usp=sharing. In addition, the recording of our senior parent meeting is below.
Graduation Information:
Stadium gates open at 7:30 am
Each senior will be permitted to bring 4 guests (previously only 2 guests were permitted – see 5/20/2021 Blair HS email re change in number of attendees)

All guests must have a ticket and be on the guest list

!
Portraits of each graduate taken by LifeTouch
Live Streaming with a free subscription to NFHS
Graduates will receive their diploma after the ceremony on the practice field
Please designate an area outside of the stadium to meet with your graduate after the ceremony
To watch our graduation live-streamed on June 2:
Graduation Parking:
One Parking Pass per graduate
Parking at Blair is limited (400 spaces), so we have auxiliary lots for parents to park. A shuttle will be provided to Blair throughout the morning.
Colesville Lot opens for parking at 7 am
University Lot opens for parking at 7:30 am
Auxiliary lots with shuttle service available
Parents can ride the school bus with their Senior to school, but the buses will not provide transportation home due to services for other schools routes.
Parking Auxiliary Lots with Bus Shuttles to Blair:
Luther Rice Memorial Baptist Church (100 Spaces)
Northwood High School (100 Spaces)
Silver Spring Presbyterian Church (50 Spaces)
Mount Jezreel Baptist Church (100 Spaces)
If you have Senior Class or Graduation questions, please contact the following staff:
Thank you for your support,
Renay Johnson
Proud Principal
Related News and Posts (Blair High School, Blair HS PTSA, MCPS)