➡️  Events listed are primarily for adults, families and teens. Please review event descriptions and/or contact event organizers for details.
➡️  Blair HS PTSA, Blair High School and MCPS events are designated as 'Featured' events (have blue vertical line in front of their event listings). For a complete list of the Blair HS PTSA's meetings and events, please visit our calendar on the website's homepage.
➡️  Please contact event organizers and/or venues prior to attendance for possible 'event attendance' limitations, safety/protection requirements, date changes or cancellations due to the coronavirus pandemic or other issues.
➡️  'Virtual' Events are events that will be held ONLINE ONLY. Check event details for access information. Note: Some virtual events start at different coast or international times (Pacific, Central, Greenwich Mean, etc.). The virtual event times listed on this website have been converted to New York/Eastern Standard Time.
BLAIR HIGH SCHOOL: Senior Celebration Day (IN-PERSON @ MBHS)
May 19, 2021 @ 10:00 am

-

12:00 pm
Information about the 'Senior Celebration Day' events…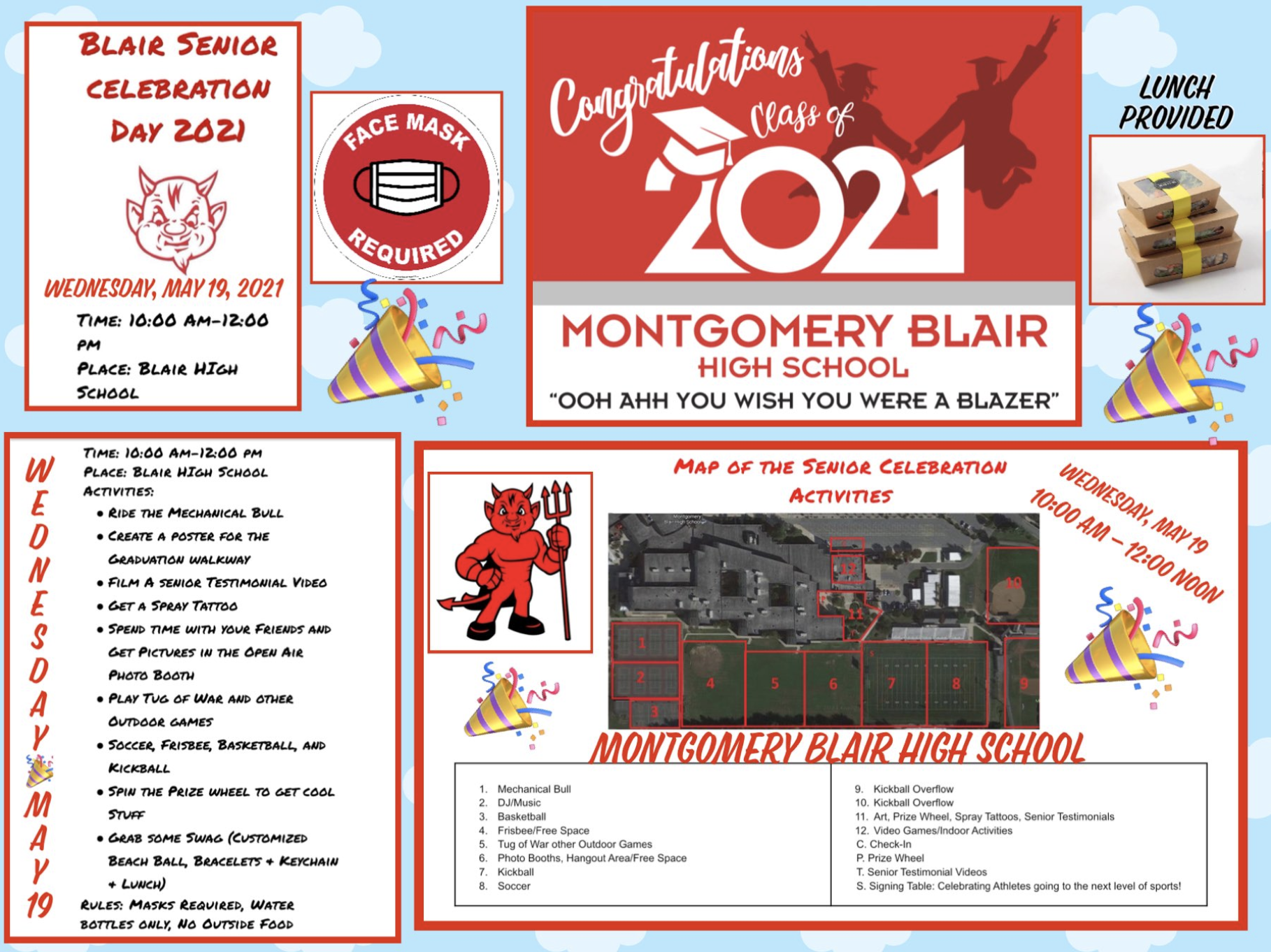 ---
If you would like to support the 'Senior Day Celebration' events….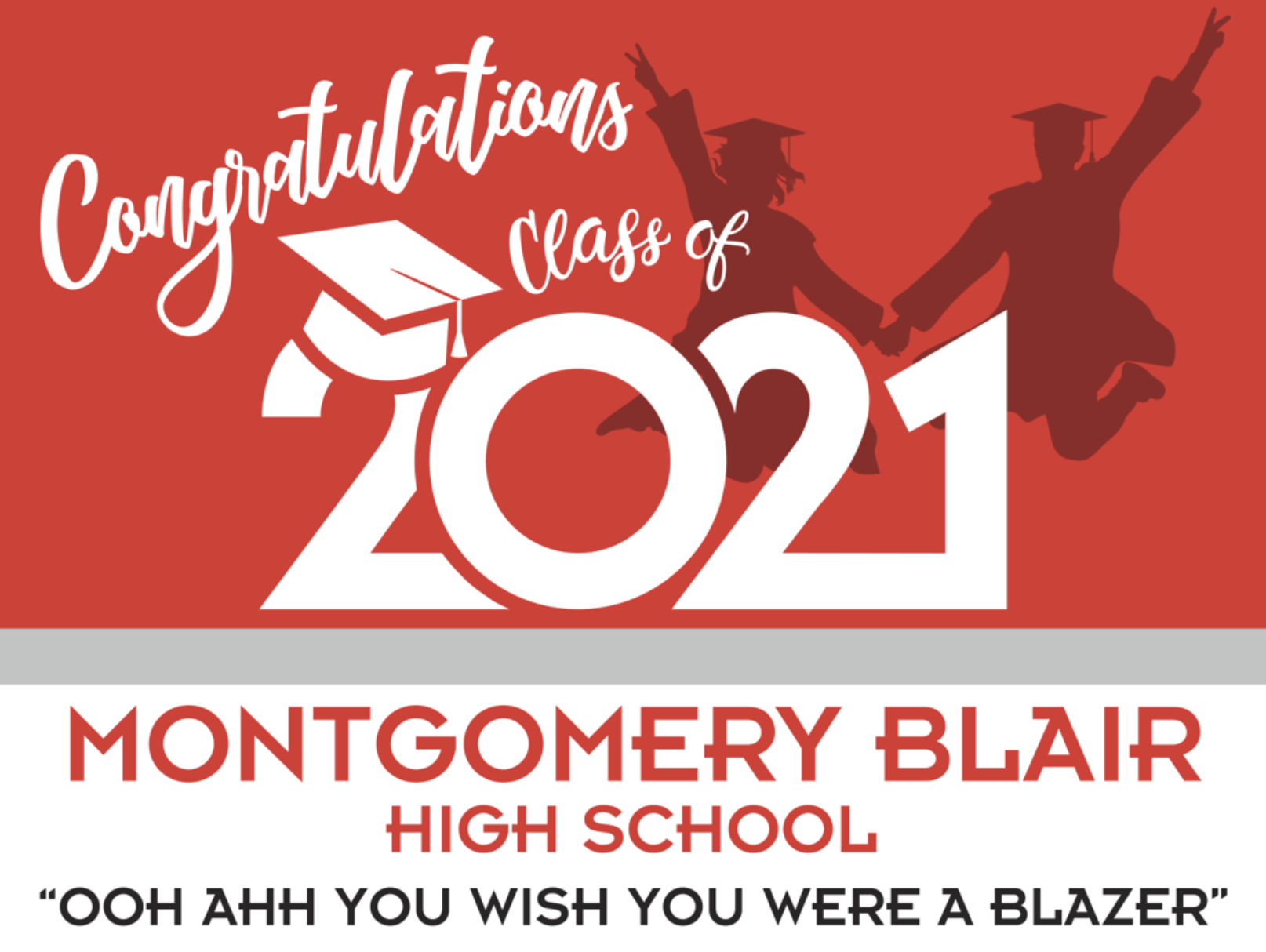 Text below is from the Blair High School PTSA 'Blazer Senior Celebration Day is May 19l' listserv message (April 27, 2021).
Hey Blazer families,
We are planning for a Senior Celebration Day on Wednesday, May 19, 2021 and we need your help!  (And don't feel left out class of 2022, 2023 and 2024 parents & families – feel free to pay it forward and join in the fun)
 PLAN! If you would like to volunteer to help plan – please let us know by email (Contact the Blair HS PTSA) and plan to join us on Thursday evening for our next planning meeting.
 VOLUNTEER! If you were looking forward to your chance to volunteer at midnight for After-Prom and feel robbed of that opportunity – you can hang out on Blair campus on the day of May 19 to help set-up, help with events and activities, or clean-up – sign up to volunteer a few hours to make this day special.
 DONATE! Thank you to everyone who made a purchase from the Citrus sale and made a donation thus far. Our funds have been used this year to provide mini-grants to staff who are continuing to come up with ways to support our students and stretch their learning. You are still welcome to donate to the PTSA – . If you would like your donation to go specifically to the 'Senior Celebration' event, make a donation on the Form, otherwise it will go to our general funds for all that the PTSA does.   Also, one of the highlights of our AfterProm is the prizes! We are a little behind in soliciting and collecting, since we didn't know what we were going to do this year. In the past we've had everything from restaurant gift cards, gift cards/certificate to local attractions to electronics.  If you would like to donate prizes for "door prizes" ("gate prizes"?) for this year's Senior Celebration let us know (Contact the Blair HS PTSA) – and we'll figure out how to get them from you! You must be able to provide in time for the May 19th event.
Thank you!
Frances Frost, Mom – Class of 2021/2023
Blair PTSA Vice President – Advocacy