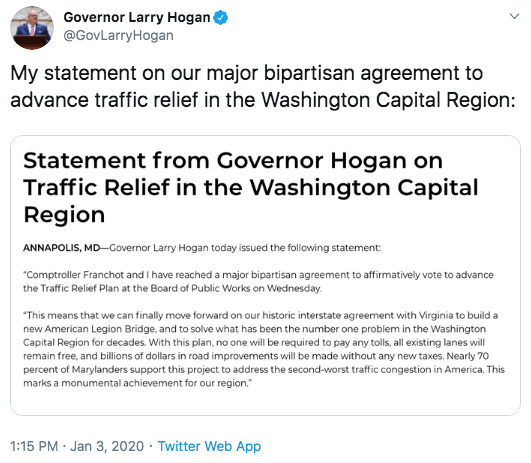 Excerpts below from mymcmedia.org article 'Franchot, Hogan Agree On Highway-Widening Plan' (January 3, 2020).
A massive highway widening project, designed to relieve congestion on the Capital Beltway and I-270, had stalled in Annapolis, but will now go forward after Gov. Larry Hogan and Comptroller Peter Franchot agreed to limit the scope of the first phase.
On Friday (Jan. 3, 2020), Hogan sent out a brief tweet saying he and Franchot had reached a "major bipartisan agreement" about the project.
Originally, Hogan wanted to add lanes to the Capital Beltway from the American Legion Bridge to I-95. Now, that part of the project will stop at I-270. The widening will then continue north until the interstate intersects with I-370 in Gaithersburg.
Montgomery County residents objected to the widening from I-270 to I-95 because it would likely consume homes, parkland and possibly Holy Cross Hospital.
Their objections led to Franchot announcing he wouldn't support the multibillion-dollar project, when it was set to come before the state's Board of Public Works. The three-member BPW, which also includes the governor and Maryland Treasurer Nancy Kopp, votes on all large contracts.
The scaled-back project will now go before the BPW at its Jan. 8 meeting in the State House. With Franchot's approval, it is likely to pass.