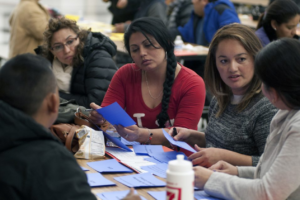 From MCPS News article: 'Join the MCPS Family Engagement Advisory Team' (November 13, 2019)
Parents, guardians and members of the community are invited to apply to be a part of the newly formed MCPS (Montgomery County Public Schools) Family Engagement Advisory Team. The purpose of the Family Engagement Advisory Team is to provide opportunities for MCPS families to learn about and provide input and feedback on the district's programs and initiatives.
MCPS is committed to improving students' school experience and academic success and ensuring equitable learning opportunities by engaging families in decision-making and program review. The Family Engagement Advisory Team will meet at least seven times during the school year and members will be required to serve a two-year term.
Applications are due by 5 pm on December 13, 2019. Applications are available at each MCPS school, by calling the Division of Student, Family and School Services at 240-740-4620, or download the application.
Additional Information:
MCPS Creating Family Engagement Advisory Team