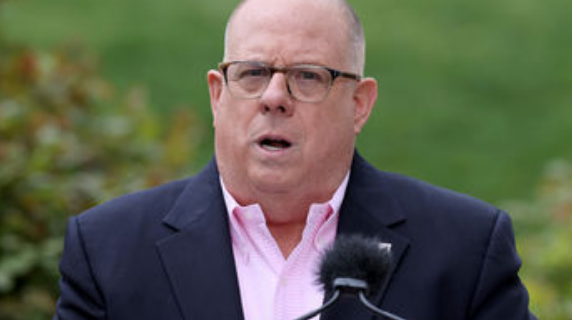 Below are excerpts from the WJLA.com news article 'Gov. Larry Hogan: Maryland's re-opening will begin at 5 p.m. on Friday' (May 13, 2020).
Gov. Larry Hogan has announced that Maryland can start the process of re-opening this Friday, May 15, but says he's given county leaders the authority to delay based on conditions in their individual jurisdictions.
Hogan issued a stay-at-home order for the state more than a month ago, on March 30. At 5 p.m. Friday, [May 15, 2020], that order will be lifted, and a new, "Safer At Home public health advisory" will begin.
At that time, retail stores will be allowed to open at 50 percent capacity, though curbside pickup and delivery is still strongly encouraged, as is physical distancing and wearing masks.
Some personal services, including barbershops and salons, will be allowed to open with up to 50 percent capacity, by appointment only and with safety measures in place.
Churches and houses of worship will be allowed to begin hold services, with 50 percent indoor capacity and, again, with appropriate distancing and safety measures. Outdoor services are encouraged.
ABC7 learned on Tuesday [May 12, 2020] that Hogan has said hard-hit jurisdictions like Prince George's and Montgomery Counties will be able to delay reopening at their discretion. Hogan addressed that at Wednesday's press conference.
"Prince George's and Montgomery counties have the highest number of cases and they have made it clear that they are not yet ready to move into stage one."

–Maryland Governor Larry Hogan, May 13, 2020
Leaders in Prince George's County and Montgomery County are expected to provide more details on the timeline of their delayed reopening on Thursday [May 14, 2020].