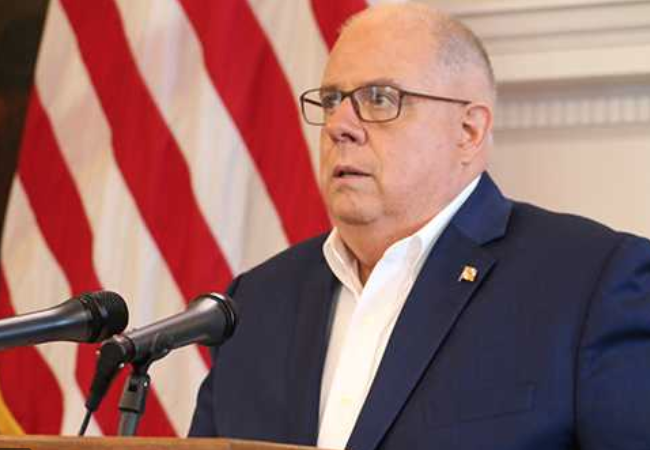 Excerpts below from the WBALTV11.com article 'Hogan expands mask order, issues out-of-state travel advisory' (July 29, 2020)
Gov. Larry Hogan is putting Maryland's reopening plan on hold as coronavirus cases spike in other states.
The uptick in cases and conditions in other states signal the need for a pause in further reopening plans in Maryland, Hogan said. The governor said Maryland will not begin to enter stage three of the recovery plan until the numbers stabilize.
Hogan said the state is closely monitoring the public health metrics and spiking coronavirus numbers in states across the country.
The governor said Maryland is at a fork in the road, a critical turning point where the state could either continue making progress, or the state could ignore the warnings and spike back up like much of the rest of the country.
The state is strongly advising against out-of-state travel to states where the positivity rate is above 10%, which, as of Wednesday, includes Alabama, Arizona, Florida, Georgia, Idaho, Louisiana, Nebraska, South Carolina and Texas.
"I directed the Maryland Department of Health to issue a public health advisory for all out-of-state travel. We are strongly advising against any travel to or from states with positivity rates of 10% or higher," Hogan said. "We are very concerned. We can't stop people from crossing the borders. Things are pretty much out of control in some of these states."
This public health advisory applies to personal, family or business travel. Anyone traveling to or from these states should get tested and self-quarantine.
Starting at 5 p.m. Friday [July 31, 2020], Maryland is expanding the statewide mask order, requiring face masks in public spaces of all businesses and in outdoor public areas whenever it is not possible to maintain physical distancing, Hogan said.
"Wearing a mask is the single-best mitigation strategy that we have to fight the virus, and the science and the data are very clear: It's the best way to keep you and your family safe, to keep people out of the hospital and to keep Maryland open for business," Hogan said.