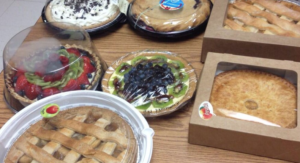 Friday, March 13, 2020 is Pi Day at Montgomery Blair High School (MBHS), and the Blair PTSA Staff Appreciation Committee is celebrating the day with sweet and savory pies for our 317 MBHS Staff members.
➡️ We need pies, lots of pies (and don't forget our vegan and gluten free staff)! Store-bought or specialty pies are more than okay! However, staff especially love a homemade pie, so if you have the time and talent to cook one yourself, that would be great!
PLEASE SIGN-UP HERE to bring in or drop-off a pie for our hard-working Montgomery Blair High School teachers and staff. Note: Pies can be dropped off at Blair in the morning of Fri. March 13th or at a Committee member's house the night before.
➡️ We also need folks to set up, serve the pies, and clean up, so if you can spare some time on March 13th, we'd appreciate that as well.

Please help us spread the Love of Pie and ensure our staff enjoys a tasty slice of pie on Pi Day!
If you have any questions, please contact the Blair PTSA Staff Appreciation Committee Chair, Diane Kelleher (diane.kelleher@gmail.com).