—Please contact event organizers and/or venues prior to attendance for possible 'event attendance' limitations, safety/protection requirements, date changes or cancellations due to the COVID-19/coronavirus pandemic.
—Maryland schools and buildings will remain closed through the rest of the 2019-2020 academic school year. Events that were scheduled at MCPS schools and buildings will either be postponed or cancelled.
—'Virtual' Events are events that will be held ONLINE ONLY. Check event details for access information. Note: Some virtual events start at different coast or international times (Pacific, Central, Greenwich Mean, etc.). The virtual event times listed on this website have been converted to New York/Eastern Standard Time.
Youth Town Hall for Students (Montgomery County Council)
November 13, 2019 @ 6:00 pm

-

8:00 pm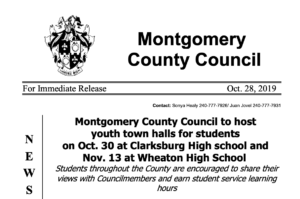 The Montgomery County Council will host its second youth town hall on November 13, 2019 to hear more about the issues impacting young people in the County. The youth town hall and pre-meeting reception provides students with a chance to meet their local representatives and to ask questions and get information about the issues that matter to them.
At the pre-meeting reception, Councilmembers will visit with students and their family members. In addition, Councilmember Craig Rice, who serves as chair of the Council's Education Committee, will announce the winner of the Councilmember for a Day challenge at the Nov. 13 town hall at Wheaton High School.
Students from public and private schools from around the County and students from local colleges are encouraged to express their views on any aspect of their education, programs that impact students or public policy issues that impact their daily lives. They also are encouraged to ask questions of the Councilmembers. Susan Kenedy, senior producer and communications specialist for the Council, and Crystal Park, community engagement specialist, will moderate the meeting.
Note: The meeting will take place at Wheaton High School from 7 to 8:30 p.m. Doors open at 6 p.m. for a pre-meeting pizza reception for students and Councilmembers. Click here for location, reception and meeting details
For more information and/or if you have questions about the meeting, call 240-777-7931.