➡️  Events listed are primarily for adults, families and teens. Please review event descriptions and/or contact event organizers for details.
➡️  Blair HS PTSA, Blair High School and MCPS events are designated as 'Featured' events (have blue vertical line in front of their event listings). For a complete list of the Blair HS PTSA's meetings and events, please visit our calendar on the website's homepage.
➡️  Please contact event organizers and/or venues prior to attendance for possible 'event attendance' limitations, safety/protection requirements, date changes or cancellations due to the coronavirus pandemic or other issues.
➡️  'Virtual' Events are events that will be held ONLINE ONLY. Check event details for access information. Note: Some virtual events start at different coast or international times (Pacific, Central, Greenwich Mean, etc.). The virtual event times listed on this website have been converted to New York/Eastern Standard Time.
Women's History Month: Conversations For Change (Maryland Public Television) – VIRTUAL
March 31, 2021 @ 7:00 pm

-

8:00 pm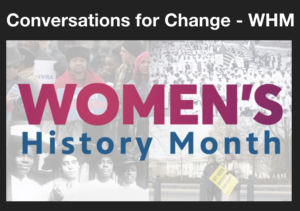 In celebration of Women's History Month, in collaboration with Morgan State University and University of Maryland Global Campus, Maryland Public Television (MPT) invites you to join us for a special event honoring the legacy of Black women suffragists and their impact on the leaders of today — leaders such as former Georgia State Representative Stacey Abrams, whose voter registration efforts directly impacted the election of Kamala Harris, the nation's first woman of color serving as our nation's Vice President.
The screening will include a presentation of "The Ongoing Fight," a co-production of American Experience and Retro Report, which presents the contributions of Black women in the suffrage movement and where that movement is today. A panel discussion follows the video.
Panelists include:
Moderator: Dr. Karsonya "Kaye" Wise Whitehead, host of "Today With Dr. Kaye" on WEAA; founder of the Karson Institute for Race, Peace & Social Justice and associate professor of Communication and African American Studies in the Department of Communication at Loyola University Maryland
Dr. Damon Freeman, director of the History and African American Studies Program at University of Maryland Global Campus; Morgan State University alumnus
Dr. Patricia Williams-Lessane, associate vice president for Academic Affairs, Morgan State University
Donna Edwards, former U.S. representative for Maryland's 4th congressional district (2008-17)
Gloria J. Browne-Marshall, Esq., professor of Constitutional Law at John Jay College of Criminal Justice (CUNY)
To register for the event, click here.
For more information about Women's History Month programming on MPT, the Rosalyn Terborg-Penn Endowed Scholarship Fund administered by the Morgan State University Foundation, the HBCU Graduate Scholarship Fund for HBCU Alumni administered by UMGC, and more, please click here.