➡️  Events listed are primarily for adults, families and teens. Please review event descriptions and/or contact event organizers for details.
➡️  Blair HS PTSA, Blair High School and MCPS events are designated as 'Featured' events (have blue vertical line in front of their event listings). For a complete list of the Blair HS PTSA's meetings and events, please visit our calendar on the website's homepage.
➡️  Please contact event organizers and/or venues prior to attendance for possible 'event attendance' limitations, safety/protection requirements, date changes or cancellations due to the coronavirus pandemic or other issues.
➡️  'Virtual' Events are events that will be held ONLINE ONLY. Check event details for access information. Note: Some virtual events start at different coast or international times (Pacific, Central, Greenwich Mean, etc.). The virtual event times listed on this website have been converted to New York/Eastern Standard Time.
Summer Institute on Education, Equity & Justice Conference (American University) – VIRTUAL
June 20, 2020

-

June 22, 2020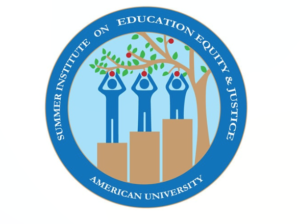 ALERT: This event was held in June 2020. The posting that was submitted to the Blair PTSA had the event listed as occurring in July 2020. The below event listing has been revised to reflect the correct scheduled dates.
……………………………………………..
2020 Summer Institute on Education, Equity & Justice (SIEEJ) Virtual Conference
About this Event
The annual American University (AU) School of Education Summer Institute on Education Equity and Justice (SIEEJ) was developed to provide professional development opportunities for community members, particularly educators, who want to learn promising practices that lead to equitable educational outcomes for underserved students, families, and communities. This year, #SIEEJthemoment as we move sessions virtually.
This year's theme is Uplifting Women and Girls of Color Through Antiracist Pedagogy, Practice, and Policies.
The institute's workshops, conducted by experts in the field, focus on educational, legal, and health implications for young people of color. Sessions are designed to change both mindsets and practices (i.e. alternatives to suspension/punishment; strategies to instill a culture of engagement). The overall goal of SIEEJ is to build a community of practice singularly focused on the strengths, challenges, and opportunities in the lives of young people of color and the communities in which they live.
Please visit the conference website for more information on session speakers, moderators, and full descriptions. All sessions will last one and a half hours and will be closed captioned. Full recordings of the sessions will be available on our website after the sessions conclude.
In the event that we reach maximum webinar capacity for sessions, rest assured, you can view the program through YouTube, which will stream live. Sign-up for our livestream sessions and you will be provided with a link to view the session in advance. We encourage you to engage with the sessions by using the hashtag #SIEEJthemoment.
If you are having trouble accessing the program via your personal Zoom link, you will also be provided with a YouTube link to livestream, as well.
Participants will be eligible to receive a certificate for up to 9 hours of Professional Learning Units (PLUs) upon request.
Click HERE to register for select conference sessions. Visit the conference website for more information
______________________________________
Conference Organizers at American University