➡️  Events listed are primarily for adults, families and teens. Please review event descriptions and/or contact event organizers for details.
➡️  Blair High School, Blair HS PTSA and MCPS events are designated as 'Featured' events (have blue vertical line in front of their event listings). For a complete list of the Blair HS PTSA's meetings and events, you can view our current calendar.
➡️ Please contact event organizers and/or venues prior to attendance for possible 'event attendance' limitations, safety/protection requirements, date changes or cancellations due to the coronavirus pandemic or other issues.
➡️ 'Virtual' Events are events that will be held ONLINE ONLY. Check event details for access information. Note: Some virtual events start at different coast or international times (Pacific, Central, Greenwich Mean, etc.). The virtual event times listed on this website have been converted to New York/Eastern Standard Time.
Summer 2020 Workshops for Rising 12th Graders (MCPS HS College & Career Centers) – VIRTUAL
June 24, 2020

-

July 28, 2020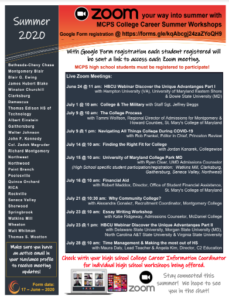 NOTES: Google Form registration @ <https://forms.gle/kqAbcgj24zaZYoQH9>. MCPS high school students must be registered to participate! With Google Form registration, each student registered will be sent a link to access each Zoom meeting.
Live Zoom Meetings:
June 24 @ 11 am: HBCU Webinar Discover the Unique Advantanges Part I with Hampton University (VA), University of Maryland Eastern Shore & Bowie State University (MD)
July 1 @ 10 am: College & The Military with Staff Sgt. Jeffrey Beggs
July 9 @ 10 am: The College Process with Tammi Wolfson, Regional Director of Admissions for Montgomery & Howard Counties, St. Mary's College of Maryland
July 9 @ 1 pm: Navigating All Things College During COVID-19 with Rob Frankel, Editor in Chief, Princeton Review
July 14 @ 10 am: Finding the Right Fit for College with Jordan Kanarek, Collegewise
July 15 @ 10 am: University of Maryland College Park MD with Ryan Clear, UMD Admissions Counselor (High School specific student participation/registration: Watkins Mill, Clarksburg,
Gaithersburg, Seneca Valley, Northwest)
July 16 @ 10 am: Financial Aid with Robert Maddox, Director, Office of Student Financial Assistance, St. Mary's College of Maryland
July 21 @ 10:30 am: Why Community College? with Alexandra Gonalez, Recruitment Coordinator, Montgomery College
July 23 @ 10 am: Essay Writing Workshop with Katie Ridgeway, Admissions Counselor, McDaniel College
July 23 @ 1 pm: HBCU Webinar Discover the Unique Advantanges Part II with Delaware State University, Morgan State University (MD), North Carolina A&T State University & Virginia State University
July 28 @ 10 am: Time Management & Making the most out of HS with Maura Daly, Lead Teacher & Angela Kim, Director, C2 Education
CCIC_Virtual_Summer_Workshops_REVISED_2020.pdf (image/flyer)