➡️  Events listed are primarily for adults, families and teens. Please review event descriptions and/or contact event organizers for details.
➡️  Blair High School, Blair HS PTSA and MCPS events are designated as 'Featured' events (have blue vertical line in front of their event listings). For a complete list of the Blair HS PTSA's meetings and events, you can view our current calendar.
➡️ Please contact event organizers and/or venues prior to attendance for possible 'event attendance' limitations, safety/protection requirements, date changes or cancellations due to the coronavirus pandemic or other issues.
➡️ 'Virtual' Events are events that will be held ONLINE ONLY. Check event details for access information. Note: Some virtual events start at different coast or international times (Pacific, Central, Greenwich Mean, etc.). The virtual event times listed on this website have been converted to New York/Eastern Standard Time.
Observatory Night: Would We Know Life if We Saw It? (Center for Astrophysics | Harvard & Smithsonian) – VIRTUAL
April 15 @ 7:00 pm

-

8:00 pm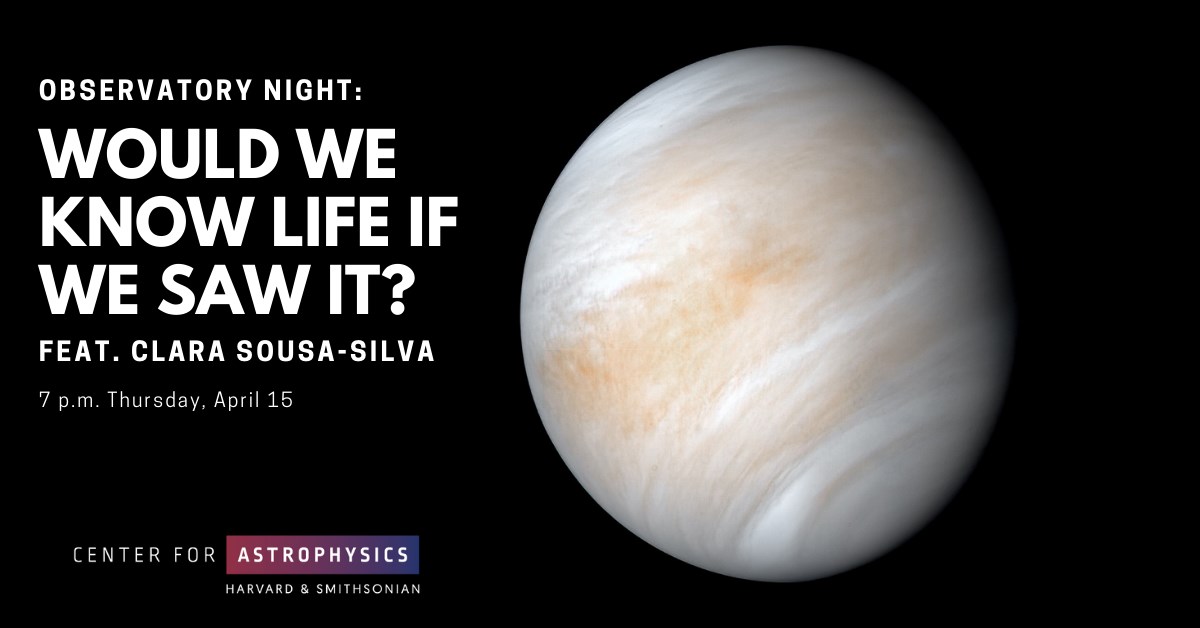 Over the last few decades, scientists have found thousands of planets beyond our own. Some of those planets might be habitable, and perhaps even inhabited already; but how can we tell? Clara Sousa-Silva, a fellow at the Center for Astrophysics | Harvard-Smithsonian, looks for signs of life on other planets using astronomical tools such as spectroscopy to detect faint signals emitted by potential alien biospheres. In this presentation, Clara will draw on her experience investigating strange molecules on strange planets, such as her recent work exploring the possibility of phosphine on Venus, answering the question: "Would we know life if we saw it?"
Clara Sousa-Silva is a quantum astrochemist at the Center for Astrophysics. She investigates how molecules interact with light so that they can be detected on faraway worlds. Clara spends most of her time studying molecules that life can produce so that, one day, she can detect an alien biosphere. Her favorite molecular biosignature is phosphine: a terrifying gas associated with mostly unpleasant life. When she is not deciphering exoplanet atmospheres, Clara works hard to persuade the next generation of scientists to become an active part of the astronomical community.
The Center for Astrophysics | Harvard & Smithsonian sponsors Observatory Nights on the third Thursday of select months. Observatory Nights feature a nontechnical lecture intended for high-school age and older audiences but children are also welcome. This semester's events will be live streamed on the CfA's Facebook page.
LINK TO VIEW PROGRAM (at scheduled date/time): https://www.facebook.com/CenterForAstrophysicsHarvardSmithsonian