➡️ Please contact event organizers and/or venues prior to attendance for possible 'event attendance' limitations, safety/protection requirements, date changes or cancellations due to the COVID-19/coronavirus pandemic.
➡️  Events listed are primarily for adults and/or teens. Please review event descriptions or contact event organizers for audience details.
➡️ Maryland schools and buildings will remain closed through the rest of the 2019-2020 academic school year. Events that were scheduled at MCPS schools and buildings will either be postponed or cancelled.
➡️ 'Virtual' Events are events that will be held

ONLINE ONLY

. Check event details for access information. Note: Some virtual events start at different coast or international times (Pacific, Central, Greenwich Mean, etc.). The virtual event times listed on this website have been converted to New York/Eastern Standard Time.
MCPS Districtwide Boundary Analysis Community Meetings (Select Dates/Locations)
December 4, 2019

-

January 23, 2020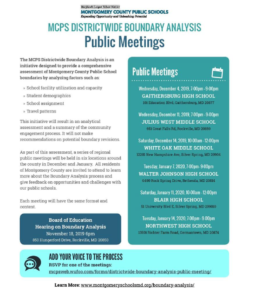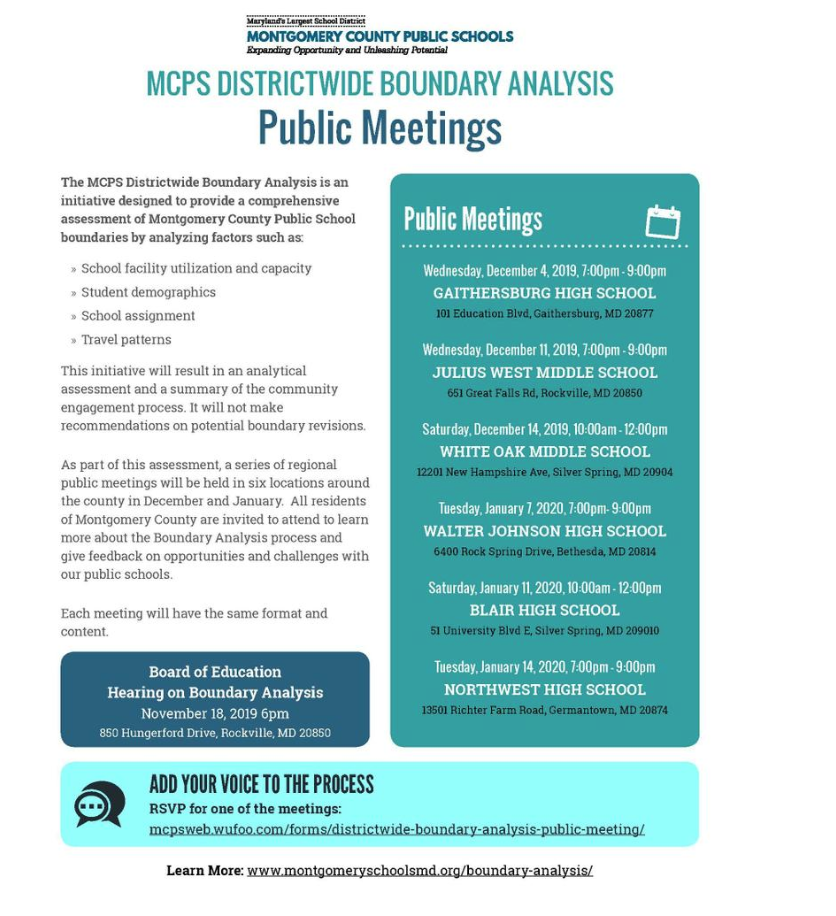 The MCPS Districtwide Boundary Analysis is an initiative designed to provide a comprehensive assessment of Montgomery County Public School boundaries by analyzing factors such as:
School facility utilization and capacity
Student demographics
School assignment
Travel patterns
This initiative will result in an analytical assessment and a summary of the community engagement process. It will not make recommendations on potential boundary revisions.
As part of this assessment, a series of regional public meetings will be held in six locations around the county in December and January. All residents of Montgomery County are invited to attend to learn more about the Boundary Analysis process and give feedback on opportunities and challenges with our public schools.
Each meeting will have the same format and content.
---
Multiple Regional Open Meetings across the County – RSVP for any of the meetings below.
➡️Wednesday, December 4, 2019, 7:00pm – 9:00pm
Gaithersburg High School
101 Education Blvd, Gaithersburg, MD 20877
➡️Wednesday, December 11, 2019, 7:00pm – 9:00pm
Julius West Middle School
651 Great Falls Rd, Rockville, MD 20850
➡️Saturday, December 14, 2019, 10:00am – 12:00pm
White Oak Middle School
12201 New Hampshire Ave, Silver Spring, MD 20904
➡️Tuesday, January 7, 2020, 7:00pm- 9:00pm  CANCELLED DUE TO INCLEMENT WEATHER/WILL BE RESCHEDULED FOR A LATER DATE
Walter Johnson High School
6400 Rock Spring Drive, Bethesda, MD 20814
➡️Saturday, January 11, 2020, 10:00am – 12:00pm
Blair High School
51 University Blvd E, Silver Spring, MD 209010
➡️Tuesday, January 14, 2020, 7:00pm – 9:00pm
Northwest High School
13501 Richter Farm Road, Germantown, MD 20874
➡️Thursday, January 23, 2020, 7:00pm- 9:00pm  (NEW/RESCHEDULED DATE)
Walter Johnson High School
6400 Rock Spring Drive, Bethesda, MD 20814
Virtual Public Meeting (Dates and Locations Coming Soon)