➡️ Please contact event organizers and/or venues prior to attendance for possible 'event attendance' limitations, safety/protection requirements, date changes or cancellations due to the COVID-19/coronavirus pandemic.
➡️  Events listed are primarily for adults and/or teens. For teen-specific events, enter the term "teens" in the search function. Please review event descriptions and/or contact event organizers for audience details.
➡️ MCPS (Montgomery County Public Schools) schools and buildings will remain closed through the Fall 2020 Semester. Events that were scheduled at MCPS schools and buildings will either be postponed or cancelled.
➡️ 'Virtual' Events are events that will be held

ONLINE ONLY

. Check event details for access information. Note: Some virtual events start at different coast or international times (Pacific, Central, Greenwich Mean, etc.). The virtual event times listed on this website have been converted to New York/Eastern Standard Time.
Blair High School: MBHS 2020 Summer Workshops (Various Dates/Programs) – VIRTUAL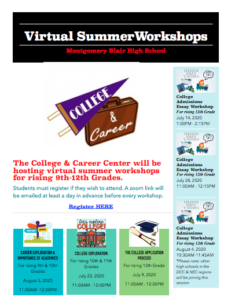 Incoming and Current Blair High School students can register for a college and career workshop via Montgomery Blair High School's 'MBHS Virtual Summer Workshops 2020″!
Below are a list of free online/virtual workshops available along with their respective RSVP deadlines. Upon registration, a Zoom link will be emailed to students at least a day before each workshop.
Please email Ms. Salazar at carmen.a.salazar@mcpsmd.net if you have any questions regarding these workshops.
MBHS_Virtual_Summer_Workshops_2020.pdf (762.1 KB)
_____________________________________________________________
SESSIONS AVAILABLE:
The College Application Process for Rising 12th Graders: July 9, 2020 – 11:00am-12:00pm, RSVP by July 8th
College Exploration for Rising 10th & 11th Graders: July 22, 2020 – 11:00am-12:00pm, RSVP by July 21st
Career Exploration & Importance of Academics for Rising 9th & 10th Graders: August 5, 2020 – 11:00am-12:00pm, RSVP by August 4th
College Admissions Essay Workshop for Rising 12th Graders: July 14, 2020 – 1:00pm-2:15PM, RSVP by July 13th
College Admissions Essay Workshop for Rising 12th Graders: July 28, 2020 – 11:00am-12:15pm, RSVP by July 27th
College Admissions Essay Workshop for Rising 12th Graders (including DCC & NEC region): August 4, 2020 – 10:30am-11:45am, RSVP by August 3rd