➡️  Events listed are primarily for adults, families and teens. Please review event descriptions and/or contact event organizers for details.
➡️  Blair HS PTSA, Blair High School and MCPS events are designated as 'Featured' events (have blue vertical line in front of their event listings). For a complete list of the Blair HS PTSA's meetings and events, please visit our calendar on the website's homepage.
➡️  Please contact event organizers and/or venues prior to attendance for possible 'event attendance' limitations, safety/protection requirements, date changes or cancellations due to the coronavirus pandemic or other issues.
➡️  'Virtual' Events are events that will be held ONLINE ONLY. Check event details for access information. Note: Some virtual events start at different coast or international times (Pacific, Central, Greenwich Mean, etc.). The virtual event times listed on this website have been converted to New York/Eastern Standard Time.
DEADLINE: Blair High School Seniors to Submit Senior/Yearbook Portraits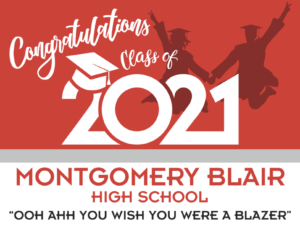 (Text from 4/27/2021 Blair High School Message to Blair Students)
Hello Students,
As yearbook production is being finalized, we are still missing many student and staff portraits. We really want to highlight all of our Blazers, and we need your help to do this!
If you did not get your portrait taken by Lifetouch (some staff and seniors did this), you must upload a headshot to ybkplus.com by FRIDAY, APRIL 30, 2021. If you have already uploaded a personal picture to this website, please disregard this email. 
Here is how to upload your portrait: 
Go to ybkplus.com 
Once you are on the site, enter your school email address (ID@mcpsmd.net). Then, a verification code will be sent to that email. 
Once the code is entered on the website, press "Choose my Portrait" and upload/crop an image of your choosing.
Click the Submit button and that's it! You're all set!
Thank you in advance for your contribution, and if you have any questions, feel free to email mbhssilverlogue@gmail.com and ask.