Please contact event organizers and/or venues prior to attendance for possible date changes or cancellations due to the Coronavirus pandemic.
NOTE

:   On March 30, 2020, Maryland Governor Larry Hogan ordered Maryland to limit gatherings to 10 people or fewer (applies to social, community, religious and recreational or sports activities).
Blair High School Spring Musical: 'In the Heights' (Various Dates/Times) – POSTPONED
MORE INFORMATION WILL BE POSTED ONCE ANNOUNCED by Blair High School (e.g., ticket prices/how to purchase tickets).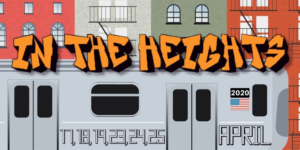 Come see the Blair High School Drama Department's performance of the musical 'In the Heights'!
Description via Broadway.com: 'In the Heights' is the Winner of the 2008 Tony Award for Best Musical, In the Heights is the story of three days in the life of Washington Heights, a tight-knit community at the top of Manhattan. Written by Lin-Manuel Miranda, this hip musical will win you over with its sweet story and hot tunes.
---
MESSAGE: "We are staying optimistic about the musical. We have been doing some virtual rehearsals. Thank goodness for our awesome assistant directors, who are making sure that rehearsals happen–I've heard from a couple of cast members that they run lines with each other every day. So yes, it will happen, in whatever form is possible when we return to some semblance of normalcy! Our concern is for our outstanding seniors, who have been so instrumental in our theatre program over the last four years; we want to make sure that the show happens for them." –  Ms. O'Connor Theatre Director, Blair High School (posted in April 2020 Blair HS Principal's Newsletter)
Performance Dates at Blair High School (Blair Auditorium):
Fri. April 17, 2020 @ 7 pm
Sat. April 18, 2020 @ 7 pm
Sun. April 19, 2020 @ 2 pm
Thurs. April 23, 2020 @ 4 pm
Fri. April 24, 2020 @ 7 pm
Sat. April 25, 2020 @ 7 pm