➡️  Events listed are primarily for adults, families and teens. Please review event descriptions and/or contact event organizers for details.
➡️  Blair High School, Blair HS PTSA and MCPS events are designated as 'Featured' events (have blue vertical line in front of their event listings). For a complete list of the Blair HS PTSA's meetings and events, you can view our current calendar.
➡️ Please contact event organizers and/or venues prior to attendance for possible 'event attendance' limitations, safety/protection requirements, date changes or cancellations due to the coronavirus pandemic or other issues.
➡️ 'Virtual' Events are events that will be held ONLINE ONLY. Check event details for access information. Note: Some virtual events start at different coast or international times (Pacific, Central, Greenwich Mean, etc.). The virtual event times listed on this website have been converted to New York/Eastern Standard Time.
An Evening with Cole Brown, Author of 'Greyboy: Finding Blackness in a White World' (Baltimore County Public Library) – VIRTUAL
November 24, 2020 @ 7:00 pm

-

8:00 pm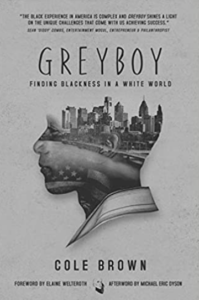 In his book 'Greyboy: Finding Blackness in a White World', author Cole Brown shares his experience of growing up Black — or Blackish as he was called — in a white space. What's it like to grow up with access, opportunity and wealth, but never really fit in? Who are you when you live at the intersection of race and class? What is Blackness? Cole shares his experiences and what he's learned from navigating the in-between. Registration closes one hour before the start of the program. A valid email address is needed at registration to send a Zoom link to the program 30 minutes before scheduled start.
Registration for this event begins on 11/10/2020 @ 7 p.m.
---
Cole has heard it all before—token, bougie, oreo, Blackish—the things we call the kids like him. Black kids who grow up in white spaces, living at an intersection of race and class that many doubt exists. He needed to get far away from the preppy site of his upbringing before he could make sense of it all. Through a series of personal anecdotes and interviews with his peers, Cole transports us to his adolescence and explores what it's like to be young and in search of identity. He digs into the places where, in youth, a greyboy's difference is most acutely felt: parenting, police brutality, Trumpism, depression, and dating, to name a few.
Greyboy: Finding Blackness in a White World asks an important question: What is Blackness? It also provides the answer: Much more than you thought, dammit.