➡️ Please contact event organizers and/or venues prior to attendance for possible 'event attendance' limitations, safety/protection requirements, date changes or cancellations due to the COVID-19/coronavirus pandemic.
➡️  Events listed are primarily for adults and/or teens. For specific events, topics or audiences  (e.g., teens, Blair High School, Blair PTSA, education, technology, etc.), enter the search term in the search function. Please review event descriptions and/or contact event organizers for details.
➡️  Blair High School, Blair HS PTSA and MCPS events are designated as 'Featured' events (have blue vertical line in front of their event listings). For a complete list of the Blair HS PTSA's meetings and events, you can view our current calendar.
➡️ MCPS (Montgomery County Public Schools) schools and buildings will remain closed until March 15, 2021 (reopening date subject to change). Events that were scheduled at MCPS schools and buildings will either be postponed or cancelled.
➡️ 'Virtual' Events are events that will be held ONLINE ONLY. Check event details for access information. Note: Some virtual events start at different coast or international times (Pacific, Central, Greenwich Mean, etc.). The virtual event times listed on this website have been converted to New York/Eastern Standard Time.
ACM Kwanzaa Celebration (Smithsonian's Anacostia Community Museum)
December 27, 2019 @ 11:00 am

-

2:00 pm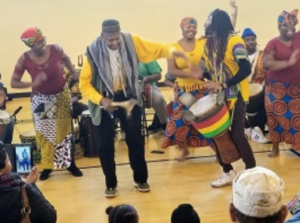 Bring the entire family for the museum's annual Kwanzaa celebration program. Enjoy energetic and interactive introduction to Kwanzaa with Melvin Deal African Heritage Dancers & Drummers.  The audience participatory program includes dancers, singers, music, colorful costumes, and lively characters designed for young children and adults alike.
During the performance and afterwards, kids can also enjoy making Kwanzaa-inspired arts and crafts from a variety of materials.  Art workshops will be led by artist/educators Brian Barber and Alma Robinson.  Free fun for the entire family!
Click here to RSVP/register.
Note: REGISTRATION DOES NOT GUARANTEE A SEAT. SEATING IS ALWAYS AVAILABLE ON A FIRST-COME, FIRST-SERVED BASIS.