➡️ Please contact event organizers and/or venues prior to attendance for possible 'event attendance' limitations, safety/protection requirements, date changes or cancellations due to the COVID-19/coronavirus pandemic.
➡️  Events listed are primarily for adults and/or teens. Please review event descriptions or contact event organizers for audience details.
➡️ Maryland schools and buildings will remain closed through the rest of the 2019-2020 academic school year. Events that were scheduled at MCPS schools and buildings will either be postponed or cancelled.
➡️ 'Virtual' Events are events that will be held

ONLINE ONLY

. Check event details for access information. Note: Some virtual events start at different coast or international times (Pacific, Central, Greenwich Mean, etc.). The virtual event times listed on this website have been converted to New York/Eastern Standard Time.
20th Annual Dr. Martin Luther King Jr. 'Day of Service' (Thursday Network & Difference Makers)
January 20 @ 11:00 am

-

2:00 pm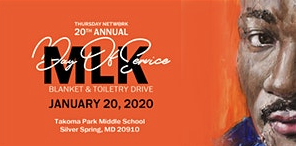 The 20th Annual Martin Luther King, Jr. Day of Service Blanket & Toiletry Drive is Thursday Network's annual event to honor the legacy of Dr. Martin Luther King, Jr.
During the month of January, communities within DC, Prince George's County, and Montgomery County will be asked to donate items and funds to create care packages for housing-unstable residents.
On January 20, we will host a package assembly event in collaboration with Takoma Park Middle School's student-led group, Difference Makers, to create care packages and deliver to people in need. Volunteers will assist in creating packages that consist of blankets, snacks, deodorants, feminine hygiene products (e.g., tampons and pads), floss, shampoo, conditioner, toothbrushes, toothpastes, soaps, and words of encouragement. This year's  goal is to deliver 1,200 packages to people in need throughout DC, Prince George's County, and Montgomery County.
Note: Click here to register to volunteer.
You can donate items by purchasing items from  Thursday Network's Amazon List.
Any event related questions or suggestions, please contact: Maggie Butler at csprograms@thursdaynetwork.org and 804-922-2488.