➡️ Please contact event organizers and/or venues prior to attendance for possible 'event attendance' limitations, safety/protection requirements, date changes or cancellations due to the COVID-19/coronavirus pandemic.
➡️  Events listed are primarily for adults and/or teens. For specific events, topics or audiences  (e.g., teens, Blair High School, Blair PTSA, education, etc.), enter the search term in the search function. Please review event descriptions and/or contact event organizers for details. Note: Blair High School, Blair HS PTSA and MCPS events are designated as 'Featured' events.
➡️ MCPS (Montgomery County Public Schools) schools and buildings will remain closed through the Fall 2020 Semester. Events that were scheduled at MCPS schools and buildings will either be postponed or cancelled.
➡️ 'Virtual' Events are events that will be held

ONLINE ONLY

. Check event details for access information. Note: Some virtual events start at different coast or international times (Pacific, Central, Greenwich Mean, etc.). The virtual event times listed on this website have been converted to New York/Eastern Standard Time.
2019 Richmond Great American Indian Exposition Pow Wow and Show
November 8, 2019

-

November 10, 2019

$12.00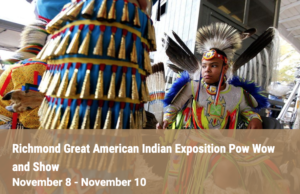 The 28th Annual Richmond Great American Indian Exposition Pow Wow and Show at Richmond International Raceway in Richmond, Virginia, featuring the best in American Indian Dancing, Singing, Drumming, Arts, Crafts, Foods and Entertainment (flute music, bow and arrow shooting & more). The Richmond Great American Indian Exposition Pow Wow and Show is an opportunity for the public to interact with over 100 American Indian dancers, singers, drummers, artists, and crafts persons. Also, this event is an attempt by Pow-Wow to educate the public about American Indians, past and present, through the arts.
Thousands will be offered in dance and drum prizes, which will attract more than 100 dancers in full regalia from throughout the United States and Canada. At least seven drums are expected.
The public will be able to visit with, and buy from some of the best arts and crafts vendors/ demonstrators in the United States. Items for sale include turquoise jewelry, moccasins, beadwork, rugs, books, and paintings to name a few. Renowned fine artists and jewelers will be represented at this year's event. Face painting will be available for children and others. We will also have a make it and take it crafts area.
Buffalo stew, Indian Tacos and buffalo burgers are just a few of the delicious Native American food items that will be on sale at this year's event. American fare such as hot dogs and burgers will be sold too.
Admission:
Friday (Nov. 8th): Call 252-532-0821 for Group Rates
Saturday – Sunday (Nov 9th-10th): Adults $12.00; Children (3-12): $6:00
Group rates are available and tickets may be purchased in advance at a discount.
Event Hours:
Friday (Nov. 8th) Cultural Program, 9:00 a.m. – 2:00 p.m.
Saturday (Nov. 9th): 10:00 a.m. – 8:00 p.m.
Sunday (Nov. 10th): 11:00 a.m. – 6:00 p.m.
Grand Entries:
Saturday & Sunday (Nov 9th & 10th): 12:00 p.m. & 5:00 p.m.